Alice in Wonderland Planner (Inspired by the Original Artwork by John Tenniel)
I was on Instagram browsing through my favourite hashtags, #planner, #aliceinwonderland, and #organization, when I came across a picture that someone had posted of their Alice in Wonderland planner with artwork by the illustrator, John Tenniel. I instantly convinced myself I needed it in my life and after a quick search on eBay and one month of shipping time from South Korea later, this planner/journal/scheduler/organizer was finally in my hands.
Dial NutriSkin Hand Soap in Grape Seed Oil & Lemongrass

This is the ultimate hand soap. I've been searching for a good one because my skin reacted really badly to method and Bath and Body Works hand soaps. A quick trip to the local grocers yielded me this gem. At first I thought I would smell like a Vietnamese dish, but instead I found the scent light and rather soothing. At the risk of being diagnosed with OCD, I found myself having to refrain from washing my hands. Apparently they have a body wash of same, so I'll have to get my hands on that.
Mannequin from Winners
Yesterday, I went to Winners to check out some home decor items as the place is seriously an underrated treasure grove.I'd seen variations of mannequins and dress forms at Winners but had never decided to purchase one because the prices seemed steep for the quality. When I went today, I bit the bullet on a $60 mannequin cause I haven't seen one that goes for that price. I brought it home and I must say that it is a simple yet big impact piece to my room. I'm absolutely in love with it. Now to think of a name. My boyfriend keeps wanting to give it a guy name...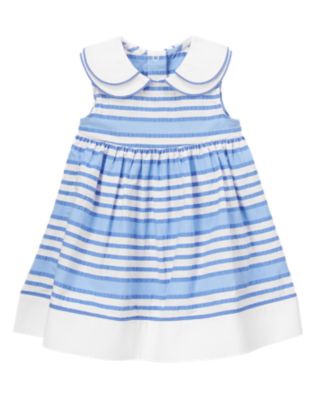 The Robin's Egg Swing Dress from Gymboree
Is this not the most adorable dress you have ever seen? In fact, the entire collection is actually mad cute. Seeing for the first time, I automatically knew I had to make my baby niece channel her inner Alice in Wonderland. This is only available in Newborn sizes, meaning the biggest size is 18-24 months so I'm praying that my niece can still fit in this dress by the time I actually get it to her. Fingers crossed! Now if I can somehow get my hands on a black bow headband and convince my niece that she needs to make this auntie very happy by complying to me dressing her up, then all will be dandy.
These are only some of the things I liked from this week. I have lots to be thankful for.
Next week is Valentine's Day! Hope all of you had an awesome week and enjoy the weekend!